Next Article: Unsaved Assessments
---
Manual facial assessments should only be carried out when it is not practical to perform an automated (video-based) facial analysis.
Examples of these conditions include:
inadequate lighting
when the person's face is moving 'out-of-the frame' (e.g. excessive movements in highly aggressive, agitated or distressed people)
when facial features are not visible due to obstruction (e.g. hands over mouth)
If possible, optimise the conditions to allow an automated assessment. If this is not feasible, then perform a manual assessment by selecting the "Manual" option from the assessment lead-in form.
1. Tap Assess Pain button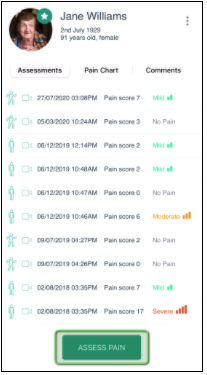 2. Change the facial analysis setting to Manual: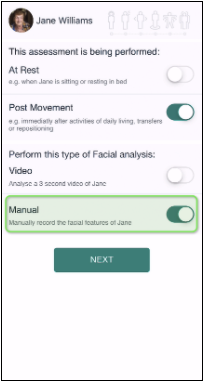 3. The domain The Face will appear on the screen. Whilst observing the resident "Check" those facial features the resident is exhibiting: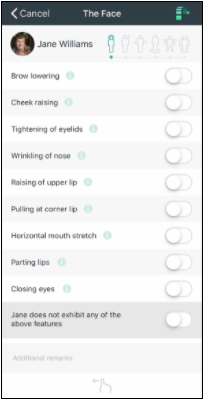 4. Continue with the other pain domains
---
Next Article: Unsaved Assessments