Next Article: Reviewing a Pain Assessment
---
Manual facial assessments should only be carried out when:
A Numeric Rating Scale (NRS) self-reporting assessment is a type of assessment that can be conducted when the resident is able to reliably communicate their pain level.
1. To begin, select the resident you would like to conduct a pain assessment on: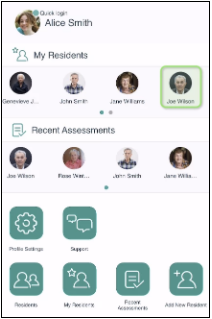 2. Tap the ASSESS PAIN button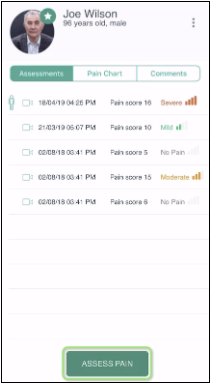 3. You should be asked what sort of assessment you want to perform - PainChek® or Numerical Rating Scale (Self-Report). Select the Numerical Rating Scale (Self-Report) option and press NEXT.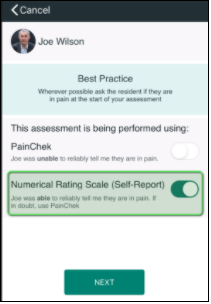 Note that this form will only appear if your PainChek license has been configured to support Numerical Rating Scale (Self-Report) assessments. If that option is not enabled on your license, you cannot perform an NRS assessment. Contact PainChek support if you would like the Numerical Rating Scale should you want to enable Numerical Rating Scale assessments.
4. Review the resident's Activity Status and tap on the appropriate assessment timing (At Rest or Post Movement):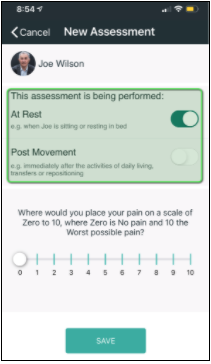 5. Ask the resident "How much pain are you in on a scale of zero to 10 where zero is no pain and 10 is the worst possible pain?". Record the pain level using the slider and then press Save: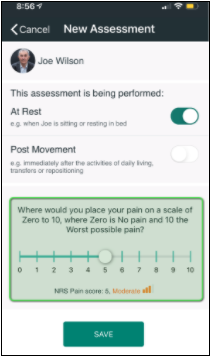 ---
Next Article: Reviewing a Pain Assessment